The New Camacho American Barrel-Aged
HONORING ONE TRADITION, WHILE BREAKING ANOTHER
This past Thursday, Camacho announced the first release of their new Master Built Series, the Camacho American Barrel Aged.  The cigar will feature bourbon barrel-aged Corojo as a core component.
The line is promoted to celebrate "the hardworking grit of Kentucky bourbon makers and the passionate artistry of our master builders. Challenging convention at every turn.
Working together to forge an intense smoking experience unlike anything else. A process that begins
 with the original Corojo plant, aging its legendary leaves for six years and then locking them in charred Kentucky bourbon barrels."
The American Barrel Aged will feature a five year old American broadleaf wrapper, which is said to provide oaken flavors and sweet bourbon aromas.
"American Barrel-Aged is something we have been working on for some time and we are very excited to finally share it with aficionados now in the US and across global markets in the near future. This project marks the first time a Camacho core line has been made outside of Honduras and we are extremely proud of what our master builders in the Dominican Republic have brought to life. Barrel aging is a very tedious and hands-on process. We are aging around 2,000 lbs of Corojo filler tobacco and rotating the barrels one leaf at a time every few weeks. Each batch takes a full five months to complete and requires constant attention to ensure the proper journey for this special tobacco," said Dylan Austin, Director of Marketing for Davidoff of Geneva USA.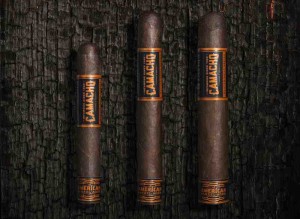 Interestingly, the cigar almost entirely utilizes American grown tobacco, including the broadleaf wrapper, binder and filler – including a maduro filler tobacco from Pennsylvania.  A single leaf of six year old bourbon barrel aged Corojo was added to the recipe, aiming to amplify the complexity of the blend."
A full nationwide road tour is in the works, and will kick off with "a week-long extravaganza at Corona Cigar in Orlando starting on June 8th."  Each of the remaining American Barrel Aged launch events will last for three days, and are being limited to a group of twenty five selected retailers.  The grand finale will close out the tour at Tampa Humidor in Tampa, FL on December 19th.
The new line will begin shipping nationwide on Monday June 15th, with a suggested retail of $10-$12 per cigar.
Camacho American Barrel Aged Road Tour Dates & Locations
Jun 8 – 13
Corona Cigar Co. (Orlando, FL)
Jun 18 – 20
Prime Cigar (Boca Raton, FL)
Jun 25 – 27
Emerson's (Virginia Beach, VA)
Jul 1 – 3
Cigar Realm (Ashland, VA)
Jul 9 – 11
Tinderbox Waldorf (Waldorf, MD)
Jul 30 – Aug 1
Humidour Cigar Shoppe (Cockeysville, MD)
Aug 6 – 8
TBD
Aug 13 – 15
Two Guys Smoke Shop (Nashua, NH)
Aug 20 – 22
Cup of Joes (Queensbury, NY)
Aug 27 – 29
TBD
Sept 3 – 5
Blend Bar (Indianapolis, IN)
Sept 9 – 11
Just For Him (Springfield, MO)
Sept 17 – 19
Outlaw Cigar Co (Overland Park, KS)
Sept 23 – 25
Addison Cigar (Addison, TX)
Oct 1 – 3
Club Humidor (San Antonio, TX)
Oct 8 – 10
Heroes & Legacies 9Austin, TX)
Oct 15 – 17
Serious Cigar (Houston, TX)
Oct 22 – 24
Cigar Shop Biloxi (Biloxi, MS)
Oct 29 – 31
Franklin Cigar (Franklin, TN)
Nov 5 – 7
Cigars & More (Birmingham, AL)
Nov 12 – 14
Havana Phil's (Greensboro, NC)
Nov 19 – 21
Ansteads Tobacco (Fayetteville, NC)
Dec 3 – 5
5 Point Bottle Shop (Athens, GA)
Dec 10 – 12
Smoke Inn (Boynton Beach, FL)
Dec 17 – 19
Tampa Humidor ((Grand Finale) Tampa, FL)
The company also released the following teaser video:
About Camacho Cigars
Camacho is the world's leading brand of bold cigars, representing the concept of unleashing unmistakable and intense
experiences. Infamous since 1962, the brand has become a sanctuary for the powerful, elemental being who seeks to fill their lives with unapologetic good times. A combination of rich heritage, product excellence and a never surrender attitude has enabled Camacho to grow into an aggressive brand globally recognized as the standard of full-frontal flavor and full-frontal lifestyle.
For more information about Camacho, please visit www.camachocigars.com or follow us on Facebook, Twitter and Instagram.