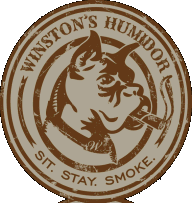 I discussed this a bit with Dale Roush on the latest episode of Half Ashed, but thought I would pass it along here on the Cigarmy as well because I think it's a fantastic idea.  Not only is the coffee blended specifically to pair with your favorite cigar, but sales benefit Cigars for Warriors as well – which is a great organization focused on supplying cigars to our servicemen and -women overseas.  I dig it, and will definitely be dropping some orders for this coffee.  Here are the details, as received from the fine folks at Winston's Humidor (go ahead and order some cigars as well….they offer many great brands, but if they still have some of their 400 Anniversary Maduro I can personally tell you they are phenomenal smokes.  Definitely worth a try.  Or two. Or a dozen……boxes
When it comes to pairing coffee with your favorite stick, some coffee blends are close, but as they saying goes, no cigar…until now! Introducing Winston's Reserva Maduro Coffee, roasted and blended by lovers of the bean and the leaf.
A blend of Honduran Occidente and Ethiopian Harrar, Winston's Reserva Maduro is a dark roast, unique in flavor. Like any great cigar, it is complex but not overpowering in strength. Rich and robust with notes of cacao, light vanilla and dark berry, our Reserva Maduro Coffee blend doesn't leave any lingering bitter aftertaste or harsh coating in your mouth to compromise your cigar enjoyment.
Winston's Reserva Maduro was blended with the cigar lover in mind. We appreciate the artisanal "hecho de mano" cigar making method, and we sought out a similar handcrafted style coffee to complement your favorite cigars. With Blanchard's Coffee Company, we found our brewing brethren. Their hands on small batch craft coffee approach resonated with us like a boutique cigar factory, and the resulting blend is what we call "The marriage between coffee and cigars." Our coffee is as fresh as you can find, in fact, it is often roasted and delivered to us on the same day for peak flavor when you brew it.
With the launch of Winston's Reserva Maduro we invite you to experience an unrivaled coffee and cigar pairing, while joining us in support of Operation: Cigars For Warriors. As a 501(c)3 charity, Cigars For Warriors sends cigars and cigar related items to our fighting men and women, who are actively deployed in war zones, along with those on long term floats and patrols in hostile waters. Cigars are the most requested item by service members overseas, and Cigars For Warriors works diligently to meet the ever increasing demand. As part of our ongoing commitment to Cigars For Warriors, we will donate 1 cigar per each bag of Winston's Reserva Maduro sold, our way of thanking those who serve our country.
Contact:
Rose Ann Edmiston and Kevin Edmiston
[email protected]
13817 Village Place Dr
Midlothian, VA 23114
(804) 379-2985