Podcast: Play in new window | Download
Subscribe: Apple Podcasts | Google Podcasts | Spotify | Stitcher | RSS | Upcoming Schedule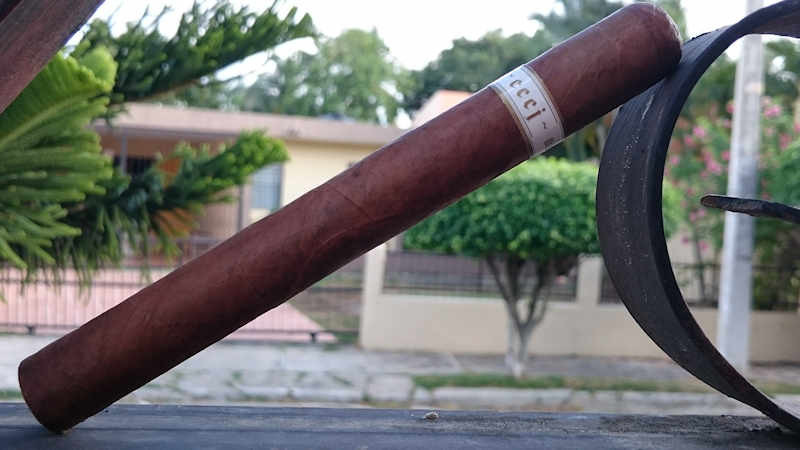 illusione ECCJ 20th
As a follow up to the 2008 release of a 15th anniversary cigar, illusione has once again teamed with Cigar Journal for the ECCJ 20th.  It hit the market a bit late to the party in February 2015, but still drew a great deal of interest from many of us who smoked the first effort.  The cigar features a Nicaraguan Corojo '99 wrapper over Nicaraguan binder and Nicaraguan Criollo '98 & Corojo '99 filler leaf.  Total production was 30,000 (2,000 boxes of 15), and came out of the TABSA factory (AGANORSA/Casa Fernandez).  The ECCJ 20th can be differentiated from the original 15th by its slightly larger size (6.25″ x 48 versus 5.625″ x 46).  The original anniversary would go on to become the Epernay line.  Tune in to see what we thought about the new edition…
Cigar News
Craig's favored Quesada España Petit Beli will be heading to W. Curtis Draper in Washington, DC.  They are the latest retailer to be slated for receipt of a 100-ct box. Each month a different Quesada retail account receives a box.  So, get in line if you like 'em like Craig…
In a story that has me conflicted as to whether it's marketing schpiel or educational tool, La Aurora is releasing a "Training Kit."  It will include a couple marketing items – branded lighter, cutter etc.  However, it will also have several puritos to showcase specific tobaccos (one seco, one viso and two ligero).  The kit will also include a larger vitola that has a number of wrappers across its length (a la Jose Blanco's seminar cigar), including bare, EC CT, EC Cameroon, EC Sumatran, Brazilian Ariparaca, US Broadleaf and DR corojo.  Also included are instructions & DVD…the kit promises to provide for a tasting seminar without a rep onsite.  No pricing or availability details.
I caught a stray tweet from the Charlie Minato that a new trademark had been filed by BOTL, LLC on the Palio cutter.  Who knew?  They're still around….
Still mulling over IPCPR stuff…and in light of the 2015 departure of Nate McIntyre and Gary Griffith, I wonder how House of Emilio is doing.  From all appearances, at least 4 of the previous 9 companies represented have fallen away from the fold.  In fact, I understand none of the 4 had a real presence at the show (Rodrigo, Epicurean, Bodega and Herederos de Robaina).  Post-Gary, owner Scott Zucca is stepping forth in a more prominent role.  I've never met him, nor even heard the name really, until Gary left.  I suppose I can say the same of new Brand Manager Spencer McGuire.  I wish them the best, as I truly enjoy a great number of their offerings;  I just wonder what the future holds.  This will be a tough story for me to follow now that I'm outside the US.  I won't have my close tabs on a large number of American shops.
The latest installment of Alec Bradley's Fine & Rare has been announced.  Once again, it will contain 10 different tobaccos.  Total production is set at 2,000 boxes of ten.  This time around it's a 6.5"x56;  I wasn't able to get pricing info, but last year ran about $18/stick.  This is one of few AB cigars I enjoy, but once they got up past the $14-ish mark I've pretty much fallen away from them.  It's interesting every year, and I've been quite impressed with their ability to format such a cigar with so many types of leaf.  I'm anxious to see if they do that $475 kit with all the blend components in puritos.  My formerly local shop had a couple and I'm not sure they ever got rid of 'em….
What Else We've Been Smoking
Craig: Ramon Allones Gigantes 2006
Kip: OR Fuente Destino al Siglo; 858 Claro (candela)
Next Episode
In the next episode (123), we will be smoking the one of Craig's offerings, a Montecristo #2.  So come by Friday night and hang out with us in the chatroom during the show.  If you would like to contact us in the meantime, you can reach us via the Contact Page or the following emails: [email protected] or [email protected]. Please feel free to drop us a line if you have any questions you'd like answered, comments to make…or even compliments and complaints.  We love to get your emails!  Also, remember you can always go back and listen to previous episodes, which can be found in the Half Ashed Archive.  You can download this week's audio directly below (right-click "Download" and save), find us on iTunes, or subscribe with any podcast app at our RSS Feed.  Video, as always, will be available at the Half Ashed YouTube Channel.