Podcast: Play in new window | Download
Subscribe: Apple Podcasts | Google Podcasts | Spotify | Stitcher | RSS | Upcoming Schedule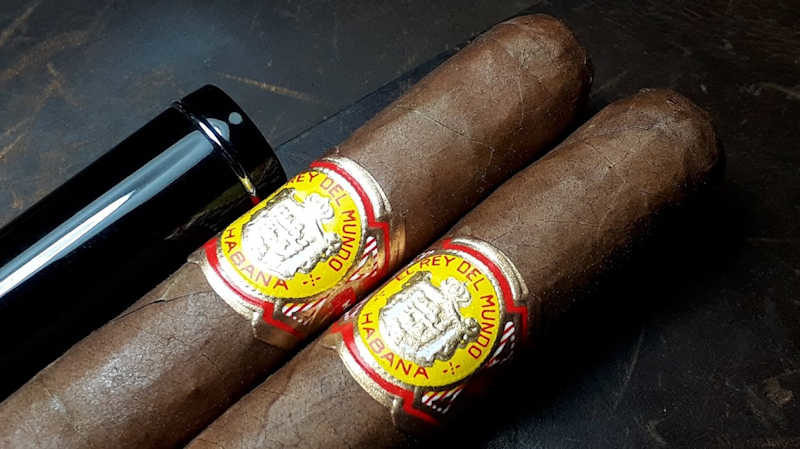 El Rey del Mundo Grandes de España
Craig – El Rey del Mundo Grandes de Espana. The cigar that is a Lancero's more suave brother. 38 x 7-⅝" naturally box pressed. This cigar is 21 years old this month and smokes as if it's got the college education of a 21 year old. I'm hyperbolic because I love this cigar. Of all that we've had on Half Ashed, the El Rey del Mundo brand represents the best luck with vintage cigars that I've been lucky enough to experience. These are a rare treat for me. Floral, sweet and bready; almost akin to a breakfast pastry. They represent the perfect balance & complexity that a completely mild cigar can provide. They have decades left of substance and I look forward to continuing their journey right along with them. Creamy tea flavors with honey and spice round out the expected profile. When younger, which technically these are when talking vintage ERdMs, they can also be slightly toasty.
Cigar News
Soneros is back. The brand went away a few years ago, after an ownership disagreement between the Gonzalez family and Cubanacan.  The case has since been settled, and the Gonzalez' will again make the cigars (now in their La Corona factory), and White Hat Distribution will be bringing them to the US…a name you may know from the fact that they also distribute Hirochi Robaina's lines.  The Soneros will again be available in two wrappers: Habano Claro (Corona Gorda, Robusto, Toro, Gordo – ranging from $5.45-8.45) and Habano Maduro (same vitolas, at $0.50 more per cigar). Becoming available over the next several weeks.
Lots of FDA movement over the past 2 weeks.  First, they are soliciting comments regarding flavored tobacco products – specifically, their appeal/usage by underage smokers.  The comment period will run for 90 days, expiring in mid-June.
Next, the Omnibus (spending bill to fund the government) has gone through…again without any exemption for premium cigars.  So, cigar manufacturers/retailers/smokers hopeful for some relief from oncoming regulation and deadlines will have to wait and see how some of the existing lawsuits shake out.  But in the meantime, the FDA is expected to open a new comment period next week for the impact of these regs. This time, the expectation is more focus on defining premium cigars and if/how they should be regulated.
Popular forum/messageboard/gathering spot/trading club REDDIT has forbidden the trading, buying/selling, and giving of tobacco products on their software, including cigars.  They issued the notice regarding a number of products, which include tobacco – and prohibit using "Reddit to solicit or facilitate any transaction or gift involving" these products.
What Else We've Been Smoking
Craig –

2003 "Yolanda" Salamone
AVO Syncro II Nicaragua Special Toro Fogata
Southern Draw Pennsylvania Broadleaf Corona
Kip

(DE) Herrera Estelí Norteño Belicoso Fino (5"x50) – I smoked one of these this week.  I have to say that even though I enjoyed them when they debuted in 2013/14ish, the most recent one was much better.  They were enjoyable for me originally, but could sometimes tapdance on the line of "shrill" or "astringent" in that their strength could overpower the flavor.  This most recent example was perfectly balanced, with a good dose of chocolatey-chile flavor and heavy medium/light full strength. Very well made. I dug it.
Crowned Heads La Imperiosa Magico – I also had the chance to revisit the Crowned Heads La Imperiosa this week.  I smoked the Magico vitola (4.5"x52), which I have to say was another pleasant surprise. When these came out in 2015, they were reportedly spun off the 2014 Las Calaveras blend – which was my favorite to date.  It seemed a bit more suave than I remember the Las Calaveras being…but deliciously tasty. There was some spice (actually most realized on relighting it hours after putting it down the first time), but this was tempered by a background sweetness that I really liked a lot.