Podcast: Play in new window | Download
Subscribe: Apple Podcasts | Google Podcasts | Spotify | Stitcher | RSS | Upcoming Schedule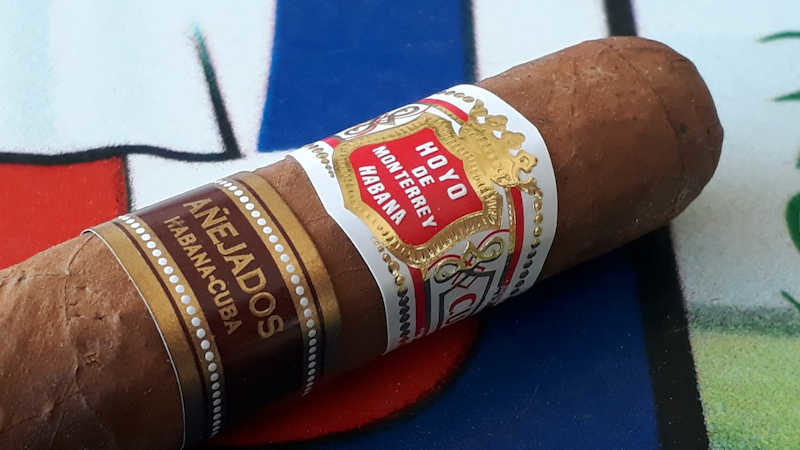 Hoyo de Monterrey Añejado
The Hoyo de Monterrey Anejados! The proverbial "Found in a warehouse" aging story come to life! SRP DIC 06 REVISADO is the box code on today's CotW. If you buy into the marketing, these, along with a series of other initial vitolas were released in 2015. The series came from a 2006 idea to finally bring the vintage market to the Cuban distribution machine. Met with mixed reviews, this Hoyo version displays how Cuban tobacco can shine in a mild form. The cigar is a traditional Hermoso #4 (a longer & skinnier robusto) and appears dry and slightly humidity soaked. Having seen three boxes in person, all seem to appear the same. They display clean, crisp sweetness with only minimal "hoyo" sweet woody flavors. They taste more vintage than aged but only when comparing the shear amount of flavor present. Nonetheless, their flavor is enjoyable and they way they present themselves is not common amongst newer releases.
Cigar News
First up in a night of legislative news, six anti-tobacco/health groups have asked to intervene in the ongoing CAA/CRA/IPCPR lawsuit.  The groups filed a Motion to Intervene, which means they are requesting the courts to include them in the suit as defendants – noting that they believe the government is not/will not properly defend the FDA regulation.  The groups are:

American Academy of Pediatrics

American Cancer Society Cancer Action Network

American Heart Association

American Lung Association

Campaign for Tobacco-Free Kids

Truth Initiative
UPDATE from CRA: Today, the District Court for the District Columbia rejected the motion of six public health groups to immediately intervene in the premium cigar industry's joint lawsuit against the U.S. Food and Drug Administration.  The Court will reconsider the issue if there are new developments.
In what is probably the bigger story over the past few weeks, the FDA has announced a big delay in the substantial equivalence deadline – a three year delay.  The new deadline is Aug 2021.  Other deadlines and guidance (or lack thereof) remain the same – including packaging requirements, etc.  What this essentially boils down to is that products in the marketplace before Aug 2016 will be allowed to remain until Aug 2021 without gaining approval (the previous deadline was May 2018).  This is huge for the smaller companies that were facing very expensive compliance with a foggy regulatory set in the near-term.  They now have longer to prepare and budget for the process – and hopefully, get more guidance in what will even be required to meet the SE regs.  The FDA commissioner, Scott Gottlieb, has also noted that a new comment period will be opened to receive and evaluate public comments about cigars and their use.  The pathway to substantial equivalence – even with the new, more distant deadline – is fairly obscure, with little guidance from the FDA in what specifically will be required to demonstrate compliance.  
Per a statement issued by CRA & IPCPR, Commissioner Gottlieb also noted that the FDA will undertake a new approach to evaluating tobacco policy – one "

that

notes a "continuum of risk" that recognizes the differences in tobacco products."

 It's worth noting also that Dr. Gottlieb stated that the FDA will "

reexamine the treatment of premium cigars under the agency's current regulatory structure. Ultimately, the agency will open a new rule making process to engage with the industry to better understand premium cigars, specifically."

 In theory, I find this encouraging…but time will tell if practice meets theory.
Hawaii, California, New Jersey, Maine, and now Oregon have raised the legal purchase age for tobacco to 21
As discussed on last week's "hangout and not a show", the results are in! The Friends of Habanos Mould Report is in and able to be viewed. With over 30 cigars with plume/mold to choose from, 10 distinct samples (in appearance) were selected. Out of those 10, only 4 distinct components were detected. All 4 were mold. As such, FoH is offering a $250 store credit for anyone who can produce a cigar with plume.

http://www.friendsofhabanos.com/forum/topic/131757-final-mould-report/
What Else We've Been Smoking
Kip –
RoMaCraft, RoMaCraft, RoMaCraft!
Serino Maduro XX – Ec. Habano 2000 over Nicaraguan binder & filler; produced by La Corona (

Omar González Alemán).  Tons of cocoa and berry sweetness…one of the better cigars I've smoked in a long time – even with the nearly $12 per robusto price tag.

Emilio Carpe Noctem.  I found these languishing on a retailer's shelf during my visit to TN.  It was a shadow of its former self from a few years ago.  I felt like it had gone very flat during that time, with some muddling of flavors and an occasional metallic taste that I didn't care for.  Tragic, since I really liked these when they hit the market.