Kuuts Nicaraguan background
I recently received a few samples from Kuuts Cigars, including their new Kuuts Nicaraguan Blend.  Never one to delay an opportunity to have a cigar or three, I decided to review them today.  The line is available in five vitolas (Momentos (4"x48; $4.90), Pequeño (4.5"x58; $5.50), Robusto (5"x52; $5.80), Toro (6"x52; $6.10) and Gordo (7"x60; $6.90)), and ranges from $4.90-$6.90 in the Florida market.  All five are available in 20 count boxes.  The wrapper selected for this blend is Ecuadoran, with Nicaraguan binder/fillers.  I smoked three of the toros in preparation for today's review.  The cigars are produced at the company's Compañia Hondureña de Tabacos factory in Danli, Honduras.
Pre Light
The Nicaraguan Blend has a light- to medium golden-brown wrapper with a smooth, clean complexion and moderate veining.  A slight oily sheen can be felt along its length.  The pack is even throughout.  The pre-light aroma is faint, with some hay and perhaps a mote of cinnamon at the foot.  The cold draw is mostly of hay, also faint in fervor and more savory than I would have expected based on the aroma alone.
The Smoke
Once fire has been applied, I get a moderate dose of spice with a core of cedar during the initial puffs.  There's the slightest hint of sweetness…but only on occasion.  The spice will hold steady throughout this first third, neither increasing nor waning.  There is some resistance to burn on one side  of the cigar during this time as well, requiring a couple of touchups.  For full disclosure, I will also mention that one of the three cigars was excessively tight; I will go forward believing this to be merely an anomaly until I've smoked a few more to be clear.  The other two were well within normal tolerances, including today's example which was near perfect.
Going into the second third, I'm surprised with the peppery spice.  Not by its intensity (still moderate), but its persistence.  Unlike many cigars that subdue as one progresses through it, the Kuuts Nicaraguan Blend has held an even keel.  This modulated spice, accompanied by the sweet cedar, produces an almost anisette or Tonkin flavor not unlike some of the more tame Lakeland District Virginias.  Personally, I find this very pleasant.  The burn on today's example has come around and is behaving very well at this point.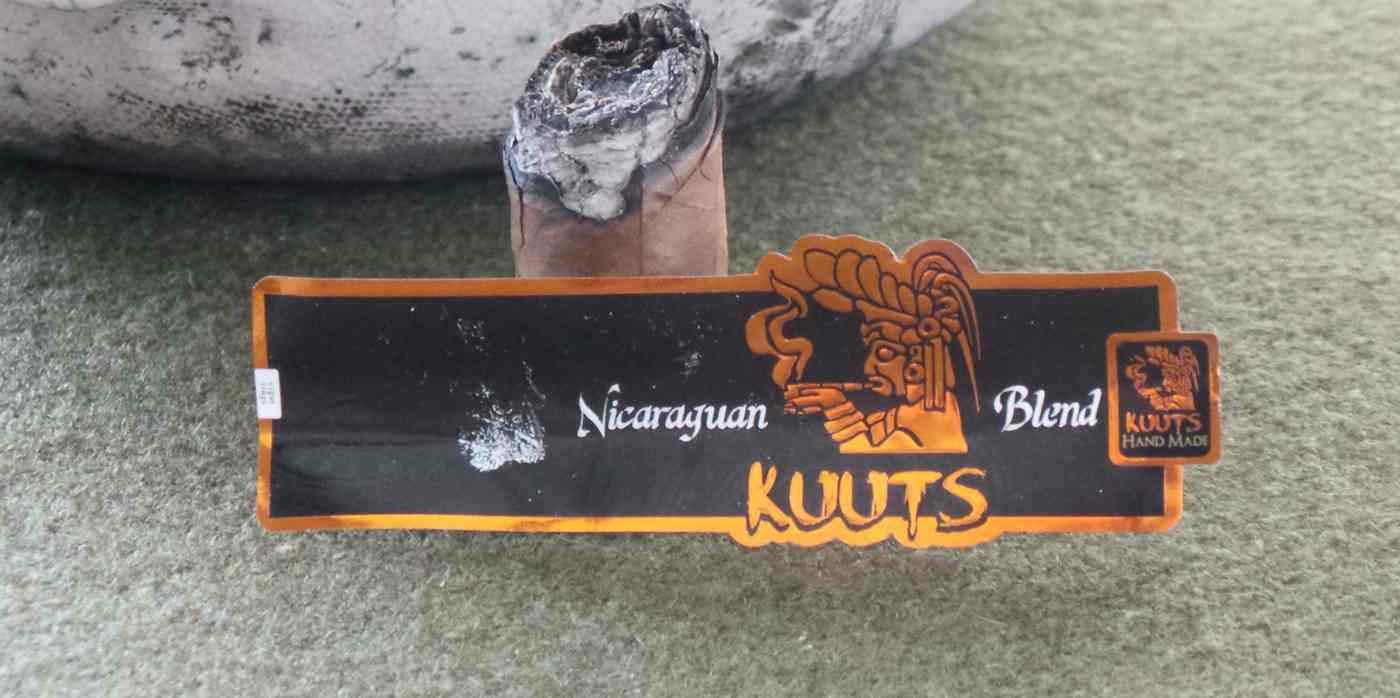 The final stretch of the Kuuts Nicaraguan Blend is ushered in with an uptick in the spice and drop in sweetness.  The cedar takes on a more prominent role during this time, and the character of the smoke becomes more savory – even drawing out an occasional salivary response.  The cedar has less of an edge than one might ordinarily expect, which lends to some more general woodsiness.  It has a clear oaken bent to it at times.  The final third is the time at which the Kuuts Nicaraguan Blend develops it most "Nicaraguan" character, morphing into a profile more in line with what many would consider the modern Nicaraguan flavor palette.  Near the very end, a flavor resembling toasted marshmallow came through, albeit fleeting.  Some wandering of the burnline occurs, but never problematically.
Summary
Overall, this has been a very enjoyable cigar.  It skirted the "90" benchmark, and had the minor burn/pack issues not presented, it would have likely broken that barrier.  The strength is modest and flavors bold but refined.  It's well balanced, and provided an interesting, enjoyable smoke throughout.  I would not hesitate to keep some around.  In fact, since receiving these I learned that my local shop has brought in the line – and have picked up a few extras to enjoy.
Pros
Exceptional price point
Bold but refined flavors; moderate strength
Cons
Possible inconsistencies, based only on 3 samples
Flavor could have been more pronounced